Custom Wax Seal Stamp
Design your very own custom wax seal stamp. All our Classic shape handles are made using FSC© Certified solid Beech wood, which is available in either a natural grain finish or gloss painted. Each stamp comes packaged in our signature gift box set and includes a single stick of premium bronze sealing wax
Artwork Guidance
For best results we highly recommend submitting a vector-based graphic file created in Adobe Illustrator or equivalent. We also accept other image formats and are happy to advise before ordering. Contact one of our Seal Specialists for details or read our image guidelines to get started. 


Order Process
Upon placing your order with us we will send you an artwork proof for review. Once the artwork file has been approved we will then begin the engraving process which can take anywhere between 3-4 working days for completion.


Shipping
Our standard international shipping option starts from just $5 USD. For urgent orders we also have a 2-3 day Express Shipping option via FedEx (see checkout for details). For information regarding import duty (EU customers only) please read our Shipping & Turnaround
Customer Reviews
21/05/2020
Joshua M.
Germany
Exceeds Expectations
This company has exceeded all of my expectations. It has been a very easy and wonderful experience. I ordered 2 custom stamps which were flawlessly executed by stamp specialist Kwok for an amazing final product. I will definitely be ordering from them again and I would recommend them to all my friends and family.
SM
20/05/2020
Sean M.
United States
JD
17/05/2020
Justin D.
Canada
Quality Workmanship
It is incredible to see how detailed designs can be imprinted onto these stamps. I have gotten a few with variations of my name on them, as well as one with a fairly intricate image. The various materials from which the handles of these stamps are made only adds to their sophistication. These are a must-have for a gentleman. P.S. The production and shipment of the items was very swift!
15/05/2020
Scott F.
United States
It's perfect!
Got a stamp as a birthday gift for a friend and it turned out great! Thanks so much!
14/05/2020
Candace A.
United States
14/05/2020
Nick V.
United States
Looks Great!
Perfectly resembles my logo. Will be using it on 500+ envelopes. Let's see how it holds up!
13/05/2020
Andrew F.
United States
Amazing customer service!
They helped me revise my stamp with a day and sent it out the next day, then I got it the day after that! So fast, and efficient!
13/05/2020
Elisabeth M.
United States
Incredibly fast and gorgeous!
I ordered a custom Wax Seal Stamp and expected it to get to my house in maybe a week at the least. Nope! I got a digital proof the day I placed my order, confirmed it, and it was in the mail by the next day! It arrived in maybe four days from the shipping facility and I absolutely adore my wax stamp! Would recommend this to anyone looking to up their packaging or letter game!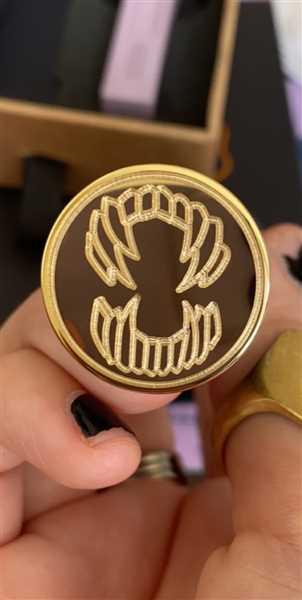 07/05/2020
Katie W.
United States
Lovely product and fast delivery!
I have tried a few different wax suppliers and Stamptitude is my absolute favorite. The seals hold up perfectly through multiple postals services (so far I've sent mail through the Rwandan, United Kingdom, and American post), and they look amazing when they arrive! I've also ordered a custom stamp through them and it is stunning, the Stamptitude team was so easy to work with and very quick about communication. The design is super clear when stamped and my friends and family have loved getting mail with the seal on it! And lastly the shipping on their products is super reliable and very very quick.
06/05/2020
Virginia S.
United States
Wonderful!
My order was handled professionally, promptly and the finished product is excellent. Love the packaging and it was a pleasure to work with this company. Super pleased with my custom stamp!
06/05/2020
JACKSON M.
United States
Very happy with process, product, and speed of shipping
You guys rock! My mom was very happy with her custom stamp. Thanks again!!
25/04/2020
saif a.
United Arab Emirates
The presentation was super finishing is amazing
I actually ordered it for my son and he was quite amazed with the products he loved it
Here's everything you can expect from a Stamptitude Wax Seal Stamp
SOLID BRASS, IMMACULATE MIRROR FINISH
Each individual stamp head is coated with an ultra fine ceramic layer which results in a mirror finish that allows you to see your own reflection. It's a totally unnecessary process which has no added benefit other than to appease our inner perfectionist
Natural Wood from Sustainable Sources
With your purchase we are able to replant MOST of what we use
For handles such as the Monarch which uses exotic walnut wood, we have partnered with onetreeplanted.org to offset some of the impact of our wood production.
For every $1 that we donate, they replant one tree on our behalf
1,000 Trees
and counting... 👏
All our classic shape handles are made using solid Beech wood from FSC Certified forestry in Croatia
Every detail has been carefully considered from the moment you slide open the box to the first time you press your stamp into melted wax.

Your first attempt at a wax seal should be something you treasure forever and we understand the importance of this more than anybody.
How will my order be processed?
Upload your design file
We accept most image formats and will happily advise prior to ordering
Approve the digital proof
A link will be sent to you via our online proof approval system
engraving will begin
Custom engraving will normally be completed within 1-2 working days
Engraved by our specialists with the utmost precision
We use advanced technology and our knowledge of various engraving techniques to ensure that your design is faithfully replicated in wax.
We believe that honesty is the best policy.

If at any point you do not feel completely satisfied with either our products or our service, you may get in touch with us anytime and we'll endeavour to make it right for you.

Equally if you have any questions or concerns prior to ordering , one of our specialists will be happy to guide you through the process.