Glue Gun Sealing Kit
This sealing kit includes everything you need to create your own professional Self Adhesive Wax Seals in bulk.
- Glue Gun with temperature control
- Wax Sticks (made especially for the Glue Gun)
- Strong 3M™ Adhesive backing sheets (25mm / 1 inch)
Each pack contains enough materials to make either 50 or 100 seals, depending on your choice of quantity.
*Wax Seal Stamp SOLD SEPARATELY 
Power output:
100-240V, 50/60 Hz. Type A adaptor (for USA, Canada, Mexico and Japan)
Customer Reviews
14/07/2020
Hannah H.
United Kingdom
Super speedy service
I was so impressed with the quality and speed of this order. Unfortunately I have been hit with an additional import fee from fedex so have ending up paying for the export and import fees personally, making this a very expensive purchase. This is not the fault of stampitude but it might be worth highlighting it when people are ordering to the UK. The additional import charge was £22.43.
28/05/2020
Alec S.
United States
Great product! Simple, Well Made, Beautiful.
Great product! Simple, Well Made, Beautiful. Bought the glue gun sealing kit and two colors of wax. I would recommend the use of ice water prior to each stamp as they do in the instructional video, it works like a charm!
01/01/2020
Noelle C.
United States
Fast shipping !!
Great quality & was easy to use! The glue gun was much better than expected
13/12/2019
Yashvi S.
United States
Perfection!
Items are great quality and it made making multiple seals so much easier! So happy with my purchase!!
Love it!
Love how the low-temp function of the wax sealing gun works so well! I've had bad experience using the guns, like overheating problems. But this wax seal gun is everything I've been asking for! I'm so satisfied with this! Worth it!
Loved all of it and it all arrived in great time!
Everything I received from Stampitude was of excellent quality, easy to use and it all arrived really swiftly. I'll be back for more of everything very soon and can't wait to order customised seals. Thanks guys!
Gorgeous stamp, beautiful wax
I was expecting a battery, not plug-in wax glue gun, so that was a tad bit disappointing just because I'll have to be near an outlet in order to make the seals. But other than that, everything is beautiful. I feel like a queen sealing stuff, and you've make me obsessed! I want to but a seal on everything!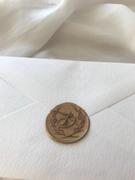 Nice customer service/not a nice glue gun
In general I had a nice first experience with Stamptitude, and will continue to order with them; I just wish I found my glue gun that I ordered to be higher end like I expected. It was overpriced but I figured it's a wax stamp site, they've got the best glue gun for the job.... it's really difficult to squeeze, you have to stick 2 to 3 wax sticks in to finish the job or the wax won't move through, and it leaks out of the nozzle like crazy so I wasted a good chunk of my wax from leakage. Overall, I think they've got nice accessories and wax for this hobby, and nice CS (which helped me on a different issue), but don't order the glue gun kit
12/04/2019
Stamptitude, Inc.
Thank you Jordan for your honest review. We are glad that you were happy with our service and as you quite rightly pointed out, electronic products are not our area of expertise as we mostly specialise in the stamps and wax. Many customers who purchase the wax on its own have had trouble finding a suitable glue gun, and so this kit solves that problem by providing the convenience of all items in one complete set. Whilst we agree that our glue gun may not win any awards, it is indeed the one that we find to be the most reliable within its price range. We actually use the exact same glue gun to produce all of our self adhesive wax seals (we have one for each colour and neither have broken down in the 6 years we have been in business) and we love that it has the ability to control the temperature. It is true that the wax will leak naturally by itself if left unattended, but this can also be said about the majority of glue guns on the market since they are originally designed to be used with glue sticks and not wax. As for the price, it is possible to find similar glue guns on Amazon for $15-$20 and considering the cost of the wax itself is $20 we believe that our current price is justifiable. With that being said, if any of our products are found to be defective we will not hesitate to offer a full replacement
Accurate and high quality
A long time ago in a galaxy far, far away.... just kidding. It's a hot glue gun designed to melt wax. Not much to say, except that the quality seems to be really great and doesn't seem like light cheap eBay junk at all. I'm happy with the product and so far it seems to be worth the money.
Fun & easy to use!
The colour of the wax was beautiful + it was very quick and easy to make the seals with this kit! Would be helpful if there were instructions included on how to use the glue gun provided e.g. which temp setting is best (we just left it at the lowest notch), that you need a second stick to help advance the first stick, etc. The only thing we couldn't figure out was why the wax seemed to be heating up more the second time around as it was dripping out of the gun even without pulling the trigger + we have bubbles in our seals unlike the first time.. Another con is that 1 sealing wax stick will always be left behind in the gun as you need another one to help push it down. Despite this though, we still have enough to make the full 100 seals and a little more :)
Loved it! Problem changing wax colors, though.
These stamps and wax are so high quality and a dream to work with! I used gold wax, then changed to white (for my sons wedding invitations; wanted to see which color looked best.) The gold and white mixed together; it took about 3 or 4 white sticks before the output was totally white with no traces of gold. The mixture was pretty, don't get me wrong, just not what I needed for this project. Is there a method for cleaning the gun before using a new color? I'd like to try several of your gorgeous wax sticks! Thank you for taking the time to read. Diane
Awesome Product
We ordered a custom couple wax seal stamp and glue gun sealing kit for our wedding invitations. Thankfully Stamptitude has the glue gun option for the wax which will help speed up the process. My fiancé is actually excited now to help put together the invitations, and said its like a Game of Thrones letter with his wax seal! The quality is top-notch and the helpful videos gave great tips on how to use the products.