Silver Glue Gun Wax
If you're planning to seal 100's of invites at a time then this is the quickest, cleanest and most efficient method. Each refill slots into a standard 1/2" glue gun, and can be used to seal 15 invites per minute.
Available in 22 different colours.
Bronze, Silver and Gold have a metallic finish and all sticks are made from a flexible wax meaning they will not break or crumble in the post.
Length: 138mm Diameter: 11mm
*Glue gun SOLD SEPARATELY
Pack of 9 (enough to make approx. 100 seals)
Customer Reviews
28/10/2019
Serena F.
United States
Pleased as always!
I always receive the best quality wax through Stampitude. I love the little tags on your double sided tape as well!
04/08/2019
Diana C.
United States
Worth the price
Works perfectly with the custom stamp I ordered earlier. I guess one could also use a regular glue gun but I liked that the temperature for this can be adjusted. It helped regulate the flow of the drip, perfect for me to time my stamping. Got enough sticks indicated for 100 seals, but they made a good 20% extra.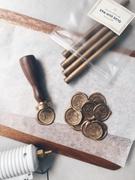 Splendid!
Just tt I had one glue gun and it already had wax in it so I had to go out and get another. I think having two would grant me the flexibility I need. Can't wait to try the new stuff! I might want to custom make a name stamp. But I'll put in the order some time. Thanks guys!
product exactly as described
this is very high quality sealing wax. takes a bit of practice but video is very helpful. happy with the results.
Absolutely Amazing!
I love my wax seal so freaking much. The guys at Stampitude were so helpful during the process of approving the proof for my custom stamp and even adjusted my shipping as I wanted to change it to express. The stamp itself is better than I could have hoped for, the teal hot glue wax is the perfect compliment to my brand colours and I couldn't be happier. You guys are awesome!