Custom Wax Seal Stamp
Design Your Own, Bespoke Wax Seal. Complete with solid wood stamp handle and a single stick of sealing wax
Artwork Guidance
For best results we highly recommend submitting a vector-based graphic file created in Adobe Illustrator or equivalent. We also accept other image formats and are happy to advise before ordering. Contact one of our Seal Specialists for details or read our image guidelines to get started. 


Order Process
Upon placing your order with us we will send you an artwork proof for review. Once the artwork file has been approved we will then begin the engraving process which can take anywhere between 3-4 working days for completion.


Shipping
Our standard international shipping option starts from just $5 USD. For urgent orders we also have a 2-3 day Express Shipping option via FedEx (see checkout for details). For information regarding import duty (EU customers only) please read our Shipping & Turnaround
Customer Reviews
11/11/2019
James M.
United States
The wax stamp arrived early and is beautiful, couldn't be happier.
The design was one that I drew many years ago as part of a game. I was asked to make something of it by those that knew me and played with me. I am very pleased that I can now demonstrate that I listened and have moved forward with bringing this design off of paper and into a 3D product. Thank you for your help.
11/11/2019
Tyrone D.
United States
Excellent service! Process was simple
Excellent service! Process was simple and fast!
ML
10/11/2019
Maria L.
United Kingdom
Supreme quality!
Reading reviews and seeing the photos on the page, I ordered my first stamp. And let me tell you, the product exceded my expectations. Not to mention that the communication from the team to make my design exaclty as I wanted, was excellent. I'm supper happy and will order again!
09/11/2019
Ryan S.
United States
Perfect
Quick, responsive customer service. Clean, professional product.
04/11/2019
Domenica P.
United States
04/11/2019
Maeva T.
Japan
I was really happy with the rapidity and the results, thank you!
Keep up the good quality, as other got jealous of my buying =)
31/10/2019
Harold M.
Colombia
Totally satisfied
Dear Stamptitude staff All 3 stamps I ordered came out absolutely pretty. The sealing results couldn't be better. I'm very happy with my new toys. You've definitely turned me into another satisfied customer of yours, and I'm already thinking of my next bespoke stamp and 3D heirloom. No doubt about it I will continue getting your stuff. I can't get enough of this. I feel so proud of my recently acquired sealing skills that I've been posting pictures of my gorgeous seals on Instagram. Thanks for your commitment and after sale service as well. Looking forward to working on a couple of new designs so I can see them in the wax soon. Regards, Harold from Bogotá, Colombia
29/10/2019
Jen S.
Singapore
27/10/2019
Tania K.
Hong Kong
SUBLIME AS ALWAYS
This is my 12th order with Stamptitude and they always nail it. Speedy delivery, attentive design team, brilliant customer care - everything is sensational. You'll hear from me again soon!
26/10/2019
Terry C.
United States
Awesome personal touch!
I love it for the old-world charm, my customers love it for the chic touch. It really does create a unique experience!
22/10/2019
Momo F.
United States
22/10/2019
Priya P.
United Kingdom
Amazing
This is the first time I have wax sealed anything. I ordered a very intricately detailed stamp, thinking it wont be possible to see all the detail. How wrong I was! I had to seal around 50 wedding invitations and they all turned out amazing! I cant wait to see the guests reactions to it, and will definitely start wax sealing more!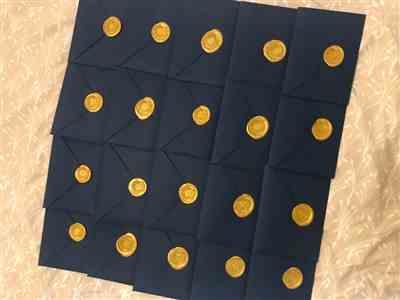 Natural Wood from Sustainable Sources
With your purchase we are able to replant MOST of what we use
For handles such as the Monarch which uses exotic walnut wood, we have partnered with onetreeplanted.org to offset some of the impact of our wood production.
For every $1 that we donate, they replant one tree on our behalf
1,000 Trees
and counting... 👏
How will my order be processed?
We believe that honesty is the best policy.

If at any point you do not feel completely satisfied with either our products or our service, you may get in touch with us anytime and we'll endeavour to make it right for you.

Equally if you have any questions or concerns prior to ordering , one of our specialists will be happy to guide you through the process.