Mauve Sealing Wax
Batch No. 1301
Additional sticks of Stamptitude-branded sealing wax for your wax stamp. These are slightly different to our regular sealing wax because they have a more premium matte finish and contain lots of stunning metallic flecks. They are made from the same flexible wax meaning they will not crumble or break in the post. Each stick can be used to make approximately 6-8 seals (25-30mm)
Sold in packs of 5
Note: Wicks used in traditional wax will stain black. All our wax sticks are wickless (To Wick, or not to Wick?) and when used correctly should not char. To avoid direct contact with a naked flame it is best to use our purpose-made Melting Kit
Customer Reviews
27/08/2020
Jean-Pierre M.
United Kingdom
Everything I wanted and more
I'm so glad you had the example wax melting videos as while your bronze wax was fantastic to use, I had bought some gold wax from a separate vendor that was prone to going black in places from burns a lot more than your brand of wax. I've since adapted the spoon melting method and it's so much better now! I love the stamp. Thank you so much.
23/05/2020
Janeen St. Louis
United States
The stamp came out more
The stamp came out more than expected.....it was perfect!❤ The only down fall was with dhl. They delivered it super late at night and didn't ring door bell. Just left it outside on the step. It was near 10pm.
JG
30/04/2020
James G.
United Kingdom
Stunning quality of product, beautifully presented
Packaging is always a big indicator of quality for me, and Stamptitude deliver from first sight with everything attractively presented and well packed. The stamp was very well made - exactly what I was hoping for from the pictures and feels really good in hand. As for wax, it was the exact colour I was looking for and handled really well for the couple test runs I did with the stamp. There was even some pleasant extra detail to the wax colouring that I hadn't noticed from the pictures! Excellent products, and I expect to be ordering again.
17/04/2020
Jina J.
United States
big fan of Stamptitude's sealing wax
I'm personally a big fan of Stamptitude's sealing wax. I've tried many different brands (especially cheaper ones on Amazon), and honestly, it's completely worth it to get this one for the quality of wax and amount of seals you get per wax stick. They added an elegant and beautiful touch to my wedding envelopes. 10/10 would recommend.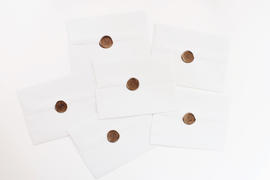 13/12/2019
Austin S.
United States
Awesome!
I've had a lot of fun with my custom stamp (I might have to get another) and I love the Terracotta Wax so much I can't get enough
01/12/2019
Janine E.
Canada
Absolutely wonderful
The quality of the stamp and wax was evident as soon as I pulled it out of the box. The packaging is a pleasure to open, and I love that the wax is wickless to avoid burning. I'm so excited to use my stamp on all of my client care packages!
04/09/2019
Liette A.
Canada
I'm happy with the product and really impressed with the service
Nothing to add! Thx
29/06/2019
Brittany B.
United States
Amazing
This is the best place to order from! This was for my wedding invitations!!! Couldn't have asked for better!
Amazing.
Super easy, great quality, relatively fast shipping
Excellent products!
Extremely fast postage to Australia. Outstanding products, great quality, very happy customer, will definately purchase again :)
Fantastic as always!
Excellent, always quick and great products!
Excellent product once again
The product arrived safely and quickly even among the busy time of the New Year, thank you! It was received in excellent condition and I can't wait to get to use!