With Love Wax Stamp
'WIth Love' Wax Seal Stamp featuring handwritten calligraphy by
Paige Tuzee
Seal Size: 25mm (1 inch)

Customer Reviews
30/04/2020
Markelle S.
United States
Would buy again
I loved the variety Stamptitude has and such a great price!
26/10/2019
Maria L.
United States
It's beautiful!
Arrived on time. The stamp is beautiful and the wax glue sticks are lovely!
BD
30/06/2019
Bethany D.
United Kingdom
Love it!
So happy with the stamp, it is beautiful and so nicely packaged. Can't wait to use it to seal our wedding invites. Thank you
Fantastic
Beautifully presented and high quality. Love
happier than a kitty in a box
The stamp is beautiful and the wax's color is mesmerizing :) It also arrived earlier than I was expecting. I cannot wait to use it!
Beautiful Seal and Excellent quality wax
The result of the "made with love" wax seal and white wax is spectacular. The delivery was fast and the use was made very easy with the guide on stampitude's website. I was worried it would not look neat on our wedding invitations but the result exceeded my expectations. Thank you stampitude for making wax seals so accessible and beautiful !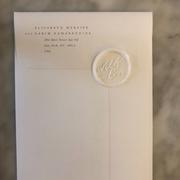 Love it
The packaging is amazing, I just love to see all the thought and passion that was put into it! The stamp really is high quality and will last me a lifetime
love it
Great quality wax seal !
Solid Stamp
I ordered the with love stamp and I do love it! It did take quite some time to get here, way longer than predicted, but I'm not sure if that's stampitudes fault or the mail service. The wax sticks are perfect. Melt without charring and very smooth with the perfect color. My only complaint, which caused me to not give five stars, was that the "E" at the end of love is not nearly as deep as the other letters so it doesn't show up as well.