Sage Sprig Wax Stamp
Traditional Wax Seal Stamp with a Sprig of Sage design. Designed by
Silbia Ro
Seal Size: 25mm (1 inch)

Customer Reviews
07/02/2020
Claudia R.
Indonesia
Always satisfied!
The stamp arrived on time and beautifully packaged. Thank youu
06/07/2019
Young K.
United States
Beautiful
From the design presentation of the package, to the quality of all your products, superb. Love everything about it. Definitely going to purchase from you guys in the future. (Is there any way to get faster delivery to the US? Am I being too greedy???)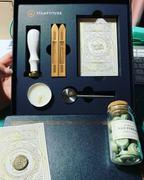 08/07/2019
Stamptitude, Inc.
Thank you :) We do have a much faster shipping option via FedEx. It is a little more expensive but it is worth every penny
Love My New Stamp
Love my new stamp, beautiful wax sticks and wax melt kit. The wooden handle is so hefty and makes stamping a breeze. Made a quality wax seal the very first time!
Great service and product!
Always pleased with my product! Thanks
Awesome stamp and service
Love my stamp, the packaging is so hip and adorable and the delivery was fast! Would definitely order again!
LOVE THEM!
gah! sooo good!!
The perfect way to step up any gift giving or envelope!
Love it! Couldn't be happier.
Lovely package
Thank you! I received the package really fast! And the stamp is in such wonderful quality.
BEAUTIFUL
I haven't gotten the hang of making a perfect wax seal just yet, but the actual stamp is flawless. It makes a wonderfully clear imprint. The hardest thing was waiting for it to be delivered, and I really should have bought the melting kit. Hope to purchase again
Great quality and beautiful results
I am so happy with my wax stamp! I wanted something simple and botanical and they had a great selection of designs that made it hard to choose. While shipping took a little longer than ideal, it was worth the wait!
wow!!!
Amazing products :)))
Love!
The stamp is perfect for our wedding invitations and wedding day-of details! Great quality and service. We are thrilled!